Group learning class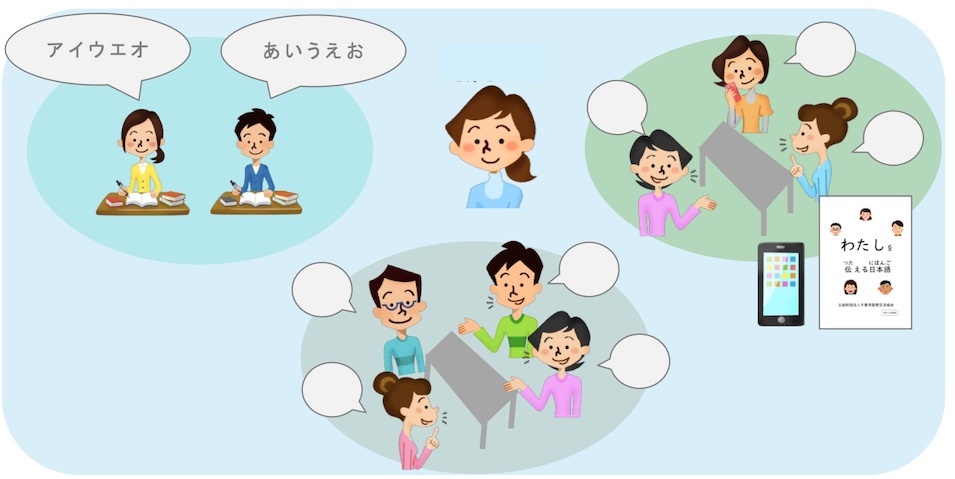 Group learning class
What to do in class
 * This class is for those who cannot participate in the long-term class "Beginner Class" or "Yomikaki Class".Divide into groups and study.
Participants are divided into groups to study independently.
Teachers and exchange staff will support you.
Those who want to learn letters will learn using hiragana and katakana teaching materials and online learning sites.
Those who want to learn beginners will practice using the teaching materials of the Chiba City International Association.
Bring the materials you want to use and study by yourself.
Suggest the learning activities you want to do in class and work with others.
In particular
 Recommended for those who want to learn Japanese but don't know if they can come every week on a continuous basis, or who are not confident of attending a long-term course.
 You may come from time to time.You may come every time.
 Basically, you will study by yourself with your friends.
 Japanese teachers will propose learning materials and learning activities.
 We also answer questions about Japanese.
 However, the teacher does not teach you all the time.You can also learn while having a conversation with a Japanese exchange member.
 Do you want to study at home, but you can't keep up?
 You can come to this class to get into the habit of studying and learn how to study independently.
Number of courses and duration
 Conducted 12 times in total
 1 hours per session (2 hours per session only in the 4th term)
Location (1) or (2)
Chiba City International Association Plaza Conference Room
Use the online web conferencing system
Prices
 1 yen for each period 2st, 3nd, 1,200rd (including teaching materials)
 4th period 1,800 yen (including teaching materials)
teaching material
Original teaching material "Japanese that conveys me"
web content
Dates
Phase 1 From May 2022, 5 to August 18, 2022 Every Wednesday from 8:3 to 10:00
Phase 2 From August 2022, 8 to November 20, 2022 Every Saturday from 11:5 to 10:00
Phase 3 From May 2022, 11 to August 9, 2023 Every Wednesday from 2:22 to 10:00
4th period: From November 2022, 11 to February 12, 2023 Every Saturday from 2:25 to 9:30 (only for the 12th period, once for 30 hours)
---
Inquiries / questions about Japanese classes
Please contact us from "Ask about Japanese class" below.
Please write your questions in Japanese as much as possible.
---
Apply for a Japanese class
To apply for a Japanese class, you need to register as a Japanese learner.
During the registration of Japanese learners, I check my understanding of Japanese.
Applications for Japanese classes will be accepted at the time of the Japanese comprehension check.
Please make a reservation for Japanese learner registration and Japanese comprehension check.
Click here to register as a Japanese learner
Notice about learning Japanese