Opening hours / Supported languages ​​/ Location
Museum Hours of Operation
Monday-Friday 9: 00-20: 00
Saturday 9:00-17:00
Closed days: Sundays and public holidays
---
Language for window
The languages ​​that can be handled at the Chiba City International Association window are English, Chinese, Korean, Spanish, Vietnamese, and Vietnamese.
There are 6 Ukrainian languages.
The working hours of the staff who can handle each language are as follows
* We may not be able to respond even within the time due to business reasons.Please be aware in advance.
English
| | |
| --- | --- |
| Monday | 10:00 - 15:30 |
| Tuesday | 9:00 - 16:30 |
| Wednesday | 9:00 - 15:30 |
| Thursday | 9:00 - 16:30 |
| Friday | 9:00 - 16:30 |
| Saturday | 9:00 - 15:30 |
Chinese
| | |
| --- | --- |
| Monday | 14:00 - 19:30 |
| Tuesday | 14:00 - 19:30 |
| Wednesday | 14:00 - 19:30 |
| Thursday | 9:00 - 19:30 |
| Friday | 14:00 - 19:30 |
| Saturday | 9:00 - 15:30 |
Korean 
| | |
| --- | --- |
| Monday | Not at |
| Tuesday | 9:00 - 15:30 |
| Wednesday | Not at |
| Thursday | Not at |
| Friday | 9:00 - 15:30 |
| Saturday | 9:00 - 15:30 |
Spanish
| | |
| --- | --- |
| Monday | 10:00 - 16:30 |
| Tuesday | Not at |
| Wednesday | Not at |
| Thursday | 10:00 - 16:30 |
| Friday | Not at |
| Saturday | 10:00 - 16:30 |
Vietnamese
| | |
| --- | --- |
| Monday | 10:00 - 16:30 |
| Tuesday | Not at |
| Wednesday | 14:00 - 19:30 |
| Thursday | 10:00 - 16:30 |
| Friday | Not at |
| Saturday | Not at |
Ukrainian
| | |
| --- | --- |
| Monday | Not at |
| Tuesday | 10:00 - 16:30 |
| Wednesday | 10:00 - 16:30 |
| Thursday | Not at |
| Friday | 10:00 - 16:30 |
| Saturday | Not at |
---
Location
260-0026
2-1 Chiba Port, Chuo-ku, Chiba City Chiba Central Community Center 2nd floor
TEL 043-245-5750
FAX 043-245-5751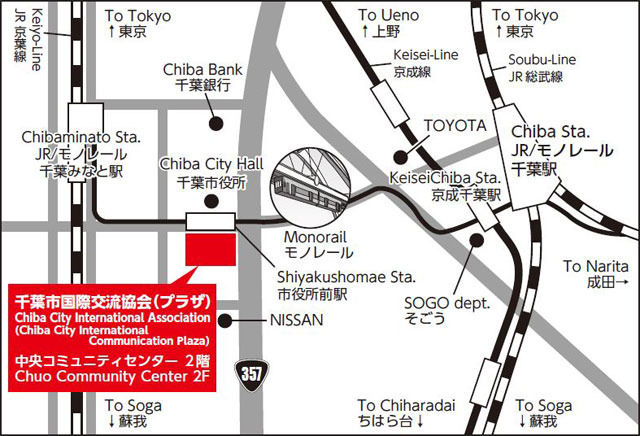 The way to the association
Japanese
English
Chinese
Korean
Spanish
Vietnamese